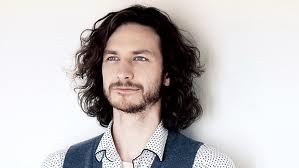 Now that the world has begin to grow tired from the blowup song "Somebody that I used to know", it's pretty likely that Gotye (Wally Debacker) will lay low for awhile or end up on VH1 one hit wonders in a decade from now. After seeing Gotye at Coachella this year, I realized that he deserves so much more than the time he was alotted. Sometimes having a huge song that the whole world embraces can work against you (literally worldwide, he's Belgium born and the song broke a 47 year old record on the Dutch Charts). It's all an artist can be known for and it's all anybody wants to hear. Gotye would be booed off stage at any concert he ever performed at if he didn't play this song for the rest of his career going forward. What I learned from seeing him live was all surprising. The most important thing I learned is something that most of the pop music listening world wasn't aware of... he has more than just one good song!
He really does! It's also a very different mix of music from one to the other. If you've grown tired of "Somebody I Used to Know" and are willing to give this artist another chance, I suggest you listen to Gotye's:
I feel Better
Eyes Wide Open
Easy Way Out
In Your Light
Hearts A Mess
After hearing Gotye live, I found he makes great use of multiple instruments and each song is so diverse from the other. No two songs sound the same. He's very multifaceted and very passionate. Listening to his first album is nothing like listening to his most recent. One other thing you may have not known is that Gotye took a year to compose his most recent album Making Mirrors and he did it while trapping himself in his parents barn where he set up his own studio in Australia. There are so many things to like about this artist and it really became apparent after seeing his live appearance at Coachella. Hopefully he will be around for awhile.