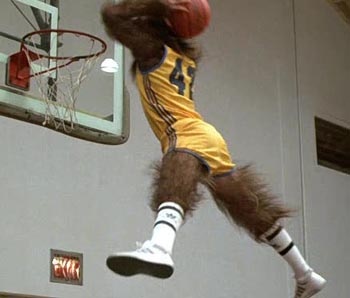 This Oklahoma City Thunder vs Miami Heat Finals has everyone in the room watching basketball for the first time in a long time. If you need further proof; I read that for television ratings this is the most popular finals matchup in the last 8 years. The cheapest ticket to the worst seat in the house in Oklahoma City for the first two games has been $300. Courtside tickets have been selling at a premium $12k + per seat. The Kevin Durant vs Lebron James exchange could prove to be the Bird vs Magic of the 80's when it comes to how it's remembered. Both games have come down to the final minutes and the final possessions. I watched the first two games in regular bars that weren't even sports bars, and not only was everyone watching all the way to the final minutes, the sound was playing as well instead of normal pop music. I'm even observing non traditional basketball fans who are getting involved and excited. The whole world is watching this entire series as the sport's two biggest superstars are fighting over their first championship. Is there any more perfect end to a season?
I keep thinking about how much I will miss this sport once the championship is over. Sure we have the Men's Olympics Basketball team in August, but it's not as much fun to watch when you know your team is favored to win and truthfully I hate to watch some of these rival superstars play together. Seeing Blake Griffin and Kobe Bryant or Russell Westbrook and Dwayne Wade shake hands, hug, and look so friendly seems forced and unnatural. I agree with Bill Simmons; these guys should loathe each other and constantly want to destroy each other. An example of this is when Michael Jordan humiliated teammates on the 1992 Olympic Dream Team. Rumors have it that he pulled his weight to get all star Isiah Thomas kicked off the team. He pretty much stated "if Isiah plays I won't be playing". These guys hated each other and that's the way rivals should treat each other. Later when Clyde Drexler was on the same Olympic team with him, Jordan sought to embarrass him and outplay him every day, including on practice days. Truthfully after this epic finals in a season full of drama that almost didn't happen, it will be hard to have to wait five months to get my basketball fix again. I've been going back and forth in my head about a way to compensate. Watching movies seems like the perfect solution to spend the off season. I fought and argued with my friends Clint and Kyle over this topic and although they hate my picks, I have come up with a list of the Top 5 Basketball Movies of all time to get everyone who is addicted to basketball through the next 5 months.
1) White Men Can't Jump (1992)
This wasn't even a close call for the best of all time. This movie had it all, it defined the sport in so many ways: black vs white players, long shot vs dunking ability, and basketball hustler vs playing basketball for financial survival. It was so well liked, it ignited the acting careers of all three main characters (Woody Harrelson, Wesley Snipes, and Rosy Perez) who all had mediocre acting careers before hand. It had a good soundtrack, exciting basketball matches, deceit among teammates, and an open ending that doesn't dissapoint and leaves you thinking. This movie was groudbreaking for sports movies in general because it succeeded at the highest level of sports movies as well as on the highest level of comedy. For anyone who may have missed this one. You need this to get your basketball fix in the off season.
2) He Got Game (1998)
If White Men Can't Jump perfected the basketball and comedy formula I'd say second in line is when He Got Game perfected the formula for basketball and drama. Fourteen years later Ray Allen is still just as well known as the main character in the movie (Jesus Shuttlesworth) as he is for being a premier NBA player whose been to the NBA finals three times and also broke the regular season three point record. The film dealt with family issues, social morale, and basketball fame at a young age which later became a real subject for Kobe Bryant and Lebron James type players in the years to come. It lacked scenes in which real games were being played but it made it up for it in giving us a real feel for the day in the life of a soon to be NBA superstar. I consider this to be Spike Lee's best movie and he is a world renowned director for 20+ years. That's how much I enjoyed this one.
3) Hoosiers (1986)
This has to be the safest choice of all basketball movies. You cannot make a list of the best basketball movies and not include it. Nobody would respect this list or the person writing it. If you dig deeper into the roots of basketball, Indiana can widely be considered the heart of basketball fan-ship. This middle America state and it's neighbor Kentucky take the sport very seriously in the same way that Texans are notorious for loving football. I don't have too much to say about the film itself because it's been a decade since I've seen it, but the film definitely has the heroic comeback in the final game's final seconds and proves once and for all that in this sport, heart and grit can outplay talent and lead to championships.
4) Teen Wolf (1985)
Whoa, what? Did he just include Teen Wolf? The answer is yes I did. To be fair though, it was a close call between this and Love and Basketball (2000). L&B was vetoed because apparently basketball doesn't mix well with romance as far as a genre goes. But do you know what genre does mix well with basketball? Players that are half human and half werewolf. The world fully embraced this idea 17 years ago. So much so that it is the only movie on the list of five that earned itself a sequel. It asked the question of who can win more basketball championships? An animal with super human athleticism or a human with heart? It was a good question for the 80's, when times were simpler. Other important questions being asked were 'who should Molly Ringwald go to prom with?' People wanted answers to the man vs wolf debate at the time and the setting of basketball was the best way to solve this debate. It did a good job by including a megastar of the time who was only 5ft 3in Michael J Fox. We can laugh at what a ridiculous concept this is, but I think if we all went and watched it again in the offseason we may just be pleasantly surprised at how much we enjoyed the basketball action.
5) More Than a Game (2008)
More Than a Game is more than just basketball. It's a documentary that will satisfy even the causal sports fan. The heart of this story underlines the heavy value of friendship that made a team composed of one superstar and four mediocre talents worthy of national championships and widespread fame. These five friends including Lebron James, won high school national championships in large part because of the strength of the bond they shared since childhood that created unbeatable chemistry on the court. These players played together most of their lives and the tension/drama added up until they were about to graduate and playing their final meaningful games in their lives together. Documentary and sports are usually my least favorite category of film, but when you catch a surprise like this, you have to include it on your list. I could watch this movie the same amount of times as I could any other on the list.