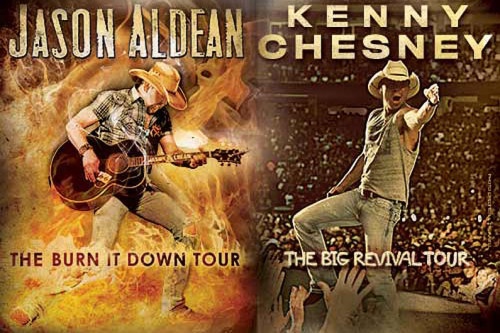 One BIG Night! Country Superstar Kenny Chesney has taken his "Big Revival Tour" on the road, partnering with rising country star Jason Aldeans "Burn it Down Tour", playing to Denver's Sports Authority Field on Saturday, August 8th.
True to its name, the "Big Revival Tour", promises a whole lot of music and some surprises! Having drawn more than a million fans for 8 consecutive tours, the eight-time Country Music Association (CMA) Entertainer of the Year award winner, Chesney is one of the most successful touring acts in any genre of popular music history, with an avalanche of top hits on the country charts!
As the only country act to land on Billboard's Top 10 Touring Acts of the Past 25 Years list, Chesney has made live performance central to his career and message. Through "The Big Revival Tour", his No Shoes Nation fans can expect to reconnect with Chesney, though what appears to be a new musical direction from what we have been accustomed to, as reflected through the huge success of the Revival Tour Album's top hits, "American Kids", Wild Child", and of course "The Big Revival".
After taking time off from touring last year to work on the new album, Chesney is fired up to share the stage with rising star and reigning Country Male Vocalist of the Year award winner, Jason Aldeans, promoting his "Burn it Down" album. Aldean's new album's smoking lead single, "Burnin' It Down" topped both country radio charts and earned Platinum certification only nine weeks after release, making it the fastest selling single of 2014! His newest single "Just Gettin' Started" is also on it's way to the top!
Two tours, combined in one venue and two different music styles! What a killer night of music! Taking country music to a new level! Don't miss it!
Tickets here, www. Ticketproxy.com
or
Order by phone, (303) 997-7205, 10a-6p, MST.